We ask patients 140,000 times each week.  The answer may surprise you.
This week has provided one of those occasions when national debate is focussed on an area where we collect relevant data, and as all doctors know, effective treatment requires sound diagnosis.
A patient sending a request through askmyGP, whether online (67%) or phoning the practice, is asked for their preferred response.  We've asked for three years and were surprised that, pre-pandemic, only 30% asked for face to face.  Perhaps more surprising is that the most recent weeks show the same data at 10% asking for face to face (chart on the left, red for face to face).  On the right, actual response, shows 13% are resolved face to face.  GPs are seeing more patients than ask to be seen.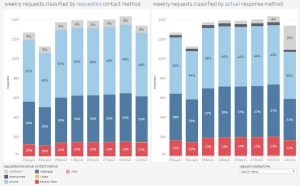 The gravitational forces on general practice underline the pressures:
– 4% growth in population over 5 years, and increasingly elderly at that.
– 5% drop in GP fte numbers, coping with increased demands post-pandemic as secondary care delays leave patients in need for longer.
Should there be more pressure to see patients face to face?
We have never expressed a view on the "right" proportion of face to face, as  the clinical judgment of the GP for every patient and need is paramount.  All we can do is reflect the data, and try to make the process of collecting and responding to patient requests as easy and flexible as possible, managing the whole workflow as one.  GPs tell us all the time that is what they value most.
Sajid Javid said yesterday "My only target is choice" and if there's one thing we can agree on, it's that.  Arbitrary numbers, with penalties for deviation, cannot be consistent with clinical choice or with boosting morale.
It is clear that going back to a 2019 GP service model won't work and radical change is needed.   A little extra cash won't fix it, and more GPs will take years to train.  Yet we know,  from helping hundreds of practices, that right now, GPs with freedom and flexibility are providing a superb service to their patients, and keeping their trust.
Mr Javid, please trust and support GPs to do the right thing.
Harry Longman
Chief Executive